GMS Mechatronics System Sdn. Bhd, are involve in trading of various diamond cutting .wheel and machinery.

Currently, we have .....

ABRASIVE PRODUCTS

Mounted Point Sets


Internal and jig Grinding Wheels
Manufactured for precision applications on Internal Grinding Machines, Jig Grinders and Cylindrical Grinders. Morrisflex products are custom made to suit a wide range of machines, mountings and applications from injector nozzles to bearing and automotive components.


Plain shanks for collet mounting.


Threaded spindle mountings.


Centre bored wheels for machine mounting.


Mounted Centre Laps
Manufactured for the finishing of special collets and the lapping of tailstock centre. Morrisflex precision centre laps are custom made in head diameters from 10mm, in a wide range of vitrified grades and shank dimensions.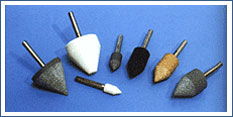 Resin Bonded Grinding Wheels and Cones
Foundry fettling applications for large Components require Resin Bonded Mounted Points, Nut Inserted Cones and Grinding Wheels

Nut Cones up to Ø65mm x 95mm head length
Grinding Wheels up to Ø130mm.
Metric and fractional mounts


SPECIALTY TOOLS

Industrial (Fine) Ceramics

Advice (Consultation).


Design.


Production.


Supply.


Features :
Excellent wear resistance due to high density.
Excellent heat resistance (usable up to 1000°C in continuos use).
Excellent chemical resistance.
Excellent mechanical strength.
Excellent insulation resistance at high temperatures and high voltage.
Comperatively low prices.

Main Applications :
Wear-resistant liner.
Perfect spherical ball.
Components for paper industry.
Heat-resistant components.
Wire-extension roller
Pump parts.
Mechanical seal.
Nozzle
Beltcleaner
Hand for silicon wafer.
Components for semi-conductor production.
precision machise parts, etc


Features :
Excellent mechanical strength and fracture touighness.
Suitable for joining with metal due to high thermal expansion coefficient closer to that of metals.
Excellent chemical resistance and corrosion resistance.
High specific gravity.
Excellent wear resistance.
Low thermal condustivity.

Main Applications :
Wire extension.
Pipe extension.
Various dies for extrusion.
Plugs for pipe extension.
Various guide rollers.
Various valves for air pressure and fluid pressure.
Various bearing materials.
Parts for pulverulent bodies.
Milling and kneading media.


Features :
High thermal shock resistance and low thermal expansion coefficient.
High mechanical strength. High bending strength at high temperature in particular.
Excellent wear resistance and corrosion resistance due to its chemical stability.

Main Applications :
Heat exchanger.
Rotor.
Burner nozzle
Reaction tube
Perfect spherical ball.
Belt cleaner.
Bearing.
Valve for metal melting.
Melting pot.
Chemical piant parts
Outflow nozzle, etc.


Features :
Excellent wear resistance due to high hardness.
Excellent corrosion resistance.
Excellent oxidation ersistance.
Not lowering in strength at high temperatures.
High thermal conductivity.

Main Applications :
Mechanical seal.
Pedestal.
Bearing.
Milling machine liner.
Chemical pump parts.
Burner.
Nozzle
Heat exchanger, etc.